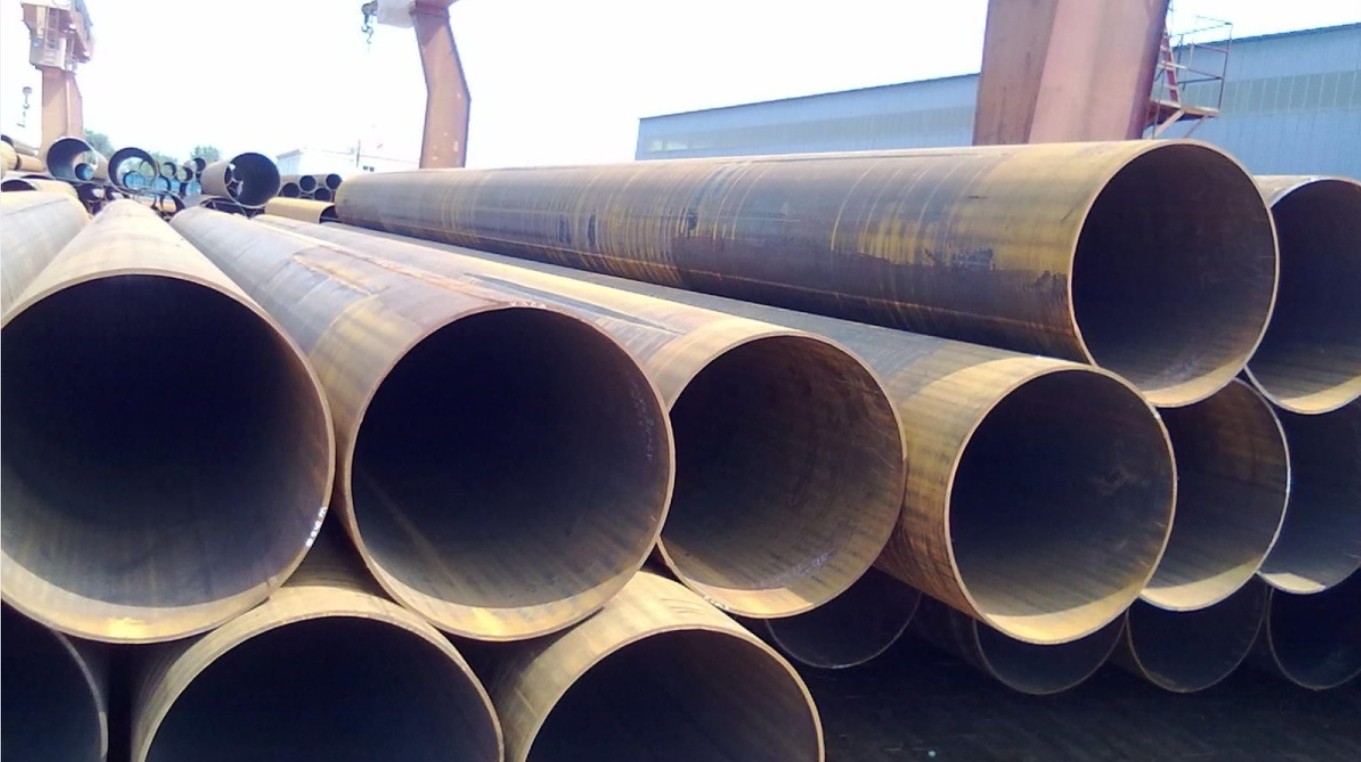 Welded pipes are produced by forming flat steel (steel or steel plates) into a cylindrical shape by mechanical pressure, and then joining the seams by welding. Quarto plate (also known as reversing mill plate) is mainly used in the industry to produce welded pipes. In addition, hot-rolled coils are also used as a base material for the production of welded pipes. Welded pipe is also known as ERW (Electric Resistance Welded) pipe.
Spiral Welded Pipe
The welds, or seams, in these pipes, are helical. A plate or sheet is formed into a spiral shape by using the Submerged Arc Welding (SAW) process. These pipes are usually in the form of large diameters and are mainly used as long-distance pipes in the energy sector as well as in many other sectors such as structural engineering.
Longitudinal Welded Pipe
In these pipes, welding is performed in the longitudinal direction. Plates or sheets are bent and resistance arc welding is used in the longitudinal direction to join the seams. Longitudinal submerged arc welding can also be used to manufacture such pipes when the sheet thickness is greater.
These tubes are formed by bending steel plates into tubes and welding them longitudinally. In the manufacture of these pipes, resistance welding is mostly used. LSAW is also used to make these pipes.
Welded Steel Pipe Type
Furnace welding (FW) or continuous welding is a unique welding method that produces pipe with a minimum of weld defects. The process is relatively expensive. The pipes are welded by heating in a furnace at welding temperatures and then extruded onto a mandrel. High-performance pipes, such as those used in boilers, are sometimes made by this process.
Submerged arc welding (SAW) is common in the industry. The arc and weld are completely submerged in the molten granular flux and remain free from oxidation during the process. It is called S-SAW or HSAW in spiral pipes and LSAW in longitudinal pipes.
The most cost-effective pipe production process is electric resistance welding (ERW). Cylindrical plates or sheets are subjected to high currents at the connection edges. Resistance heats the joint and creates a weld at the seam.
Welded Pipe Finishing
The finishing of the welded pipe depends on the customer's requirements and application. These include threaded and coupled ends for long fluid transfer lines, uncoupled threaded ends for different diameter lines, and plain or chamfered ends for general use. Pipe with pre-grooved or beveled ends for structural applications.
Different metal coatings, such as galvanized, lead-lined, aluminum-plated, and cladding, are also used for corrosion protection during application. Non-metallic coatings such as oil, paint, plastic coatings, coal tar, etc. are also used for protection during storage and transportation. End finishing and coating add significantly to the cost of welded pipe.
Name and Specification
ASTM A53 and API-5L are commonly used to define general specifications for the welded pipe. The ASTM B36.10 standard is used to define the sizes and dimensions of pipe and tubing. Although some industries have their own specifications and custom sizes.
In North America, the designations used to define pipe sizes are called Nominal Pipe Size (NPS) and Schedule Number (Sch.). NPS defines the inside diameter and Sch of the pipe. Refers to the range of wall thickness.
In European standards, Nominal Bore (NB) is used to denote the inside diameter in millimeters, while OD denotes the outside diameter of pipes and tubes. ASTM/ANSI standard weights are usually expressed in Kg/m or lb/ft.
Welded Pipe Market
The welded pipe market drivers vary by region. The demand for large and medium-sized welded pipes is mainly driven by major pipeline projects. Most pipeline projects are closely related to oil and gas exploration activities.
Hydrocarbon fuel demand and fuel prices are key to welded pipe demand. Additionally, urbanization is also playing a key role in driving the demand for the use of welded pipes to support water and sewer piping infrastructure. Other factors driving the demand for welded pipes include GDP growth, construction, automotive, and chemical industries.
Development of Welded Pipe Industry
The demand for pipeline development in Northeast Asia, North America, and Europe will grow steadily over the next five years. China announced in 2017 that it would increase its existing energy pipeline network of 112,000 kilometers to 169,000 kilometers by 2020 and 240,000 kilometers by 2025. Japan has been planning to build a 1,500-kilometer pipeline to import natural gas from Russia.
As of 2017, North America had nearly 31,000 miles of the planned pipeline, of which 15,279 miles were already under construction. One of the ongoing projects in the United States is the construction of the 600-mile Atlantic Coast Pipeline. The Nord Stream 2 project is also expected to be completed in 2021. As of 2018, there were 4,423 miles of pipeline projects under construction in the Middle East and Africa, while 4,794 miles of pipeline projects are planned for the future.
Welded Steel Pipe Application
Pipelines are used to transport oil and gas from oil fields to export terminals, refineries, and end users. The growth in global energy demand and trade in fuels is driving the growth of the global pipeline transportation industry.
Welded steel pipes are also used in different applications in the construction and infrastructure sector. These applications include scaffolding, utility and lighting poles, structural columns, and beams in steel structures such as stadium roofs, subways, and train stations. These pipes can also be used in sewage lines and water supply lines.
The chemical industry is also one of the largest consumers of welded steel pipes. Steel pipes are used in the construction of chemical processing lines, industrial sheds, and mechanical structures. Some of the sub-sectors include petrochemicals, agrochemicals, construction chemicals, resins and polymers, synthetic food processing plants, electronic chemicals, gas manufacturing, cement plants, pesticide manufacturing, fertilizer industry, pharmaceutical industry, and acid manufacturing, among others.
Welded steel pipes are also used in the automotive industry to manufacture body frame support columns and structures. These pipes and ducts are also used for engine exhaust.
Other end-user sectors include machinery, industrial, shipbuilding, energy and power, and metal furniture. In the mechanical industry, welded pipes can be used in the mechanical structure of machines, the rollers of conveyor belts, or other cylindrical structures such as hydraulic lifts, rolling mills, production lines, etc.
The above briefly introduces the market, types, and applications of welded steel pipes. If you want to know more or want to buy welded steel pipes, please
contact us
.
BAOLAI is a professional
custom steel pipe manufacturer
, our products mainly include welded carbon steel pipe, seamless carbon steel pipe, alloy steel pipe, etc. The main purpose of pipelines is to transport liquids or gases, including oil, gas, and water, underground. We offer full-size steel pipe from 1/8" to 50" OD and wall thicknesses from sch10 to SCH XXS. Baolai has API 5L, API 5CT, CE, UL, FM, ISO, and other certificates to ensure the quality of steel pipes.