Types of Oil and Gas Pipelines: Seamless, ERW, LSAW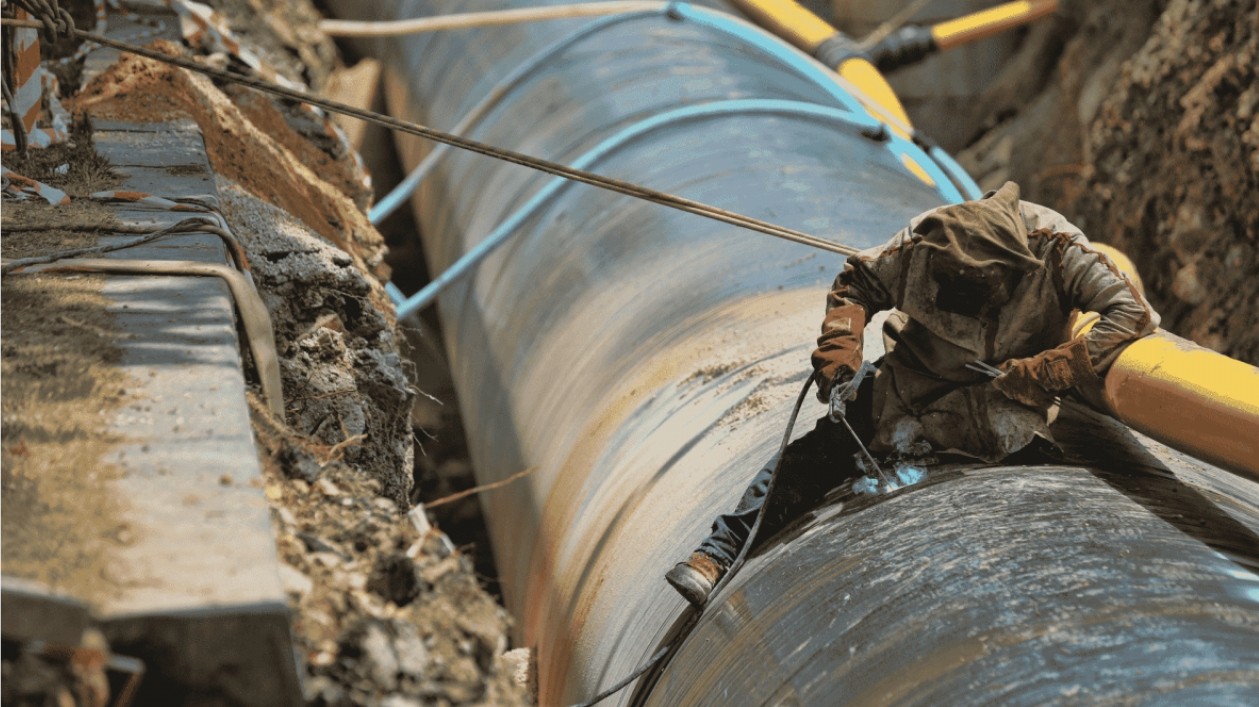 Learn about the 3 types of steel pipe used in the petrochemical industry: seamless, ERW (electric resistance welded), and LSAW (longitudinal submerged arc welded). Seamless pipe is manufactured by drawing a solid billet through a perforated rod. Welded pipes are produced by cutting, bending, and welding coils (ERW) or sheet steel (LSAW).
Seamless pipes are produced starting from billets, which are heated and perforated to form tubular sections. The word "seamless" means no welds.
Seamless Steel Tubes Are Used in Different Applications in the Oil and Gas Industry:
Upstream operations (OCTG)
Midstream (transmission and distribution of fluids such as oil, gas, steam, acids, and mud)
Downstream (process pipelines for refining oil and gas in derivative products)
General plumbing applications for utility services
The Most Common Types of Piping Used in the Oil and Gas Industry Are (ASTM Piping Specifications):
ASTM A53, A106, A333, API 5L (Types of carbon steel pipes for high and low-temperature carbon steel)
ASTM A335 Grades P5 to P91 (Chromium-Molybdenum Alloy Steel Pipe for High Temperature and High Pressure, Refinery and Power Plant Applications)
ASTM A312 300 and 400 series (304, 316, 321, 347-grade stainless steel pipe)
ASTM A790/A928 (Duplex and super duplex pipes of double ferritic and austenitic structure)
Various nickel alloy material specifications (Inconel, Hastelloy, Cupronickel, Monel, Nickel 200)
Specification for non-ferrous metal tubes (aluminum, copper, brass, copper-nickel alloys)
Some specifications cover seamless pipe only (such as ASTM A106), while others apply to both seamless and welded pipe (such as ASTM A53).
Carbon steel pipes (A53, A333, A106, and API 5L) have the largest market share as they can be used in most high and low-temperature applications; the main application for stainless steel pipes is for corrosive service (with increasing temperature and pressure, or when conveying As the fluid becomes more corrosive, higher grade tubing is used).
In the upstream oil and gas industry, API 5CT is the key specification covering OCTG pipe (Oil Well Tubular Products).
Seamless steel pipes should not be confused with seamless pipes. In fact, there are some important differences between pipes and pipes, not just semantics. In general, the term "pipe" applies to any tube used to convey fluids, while the term "tube" applies to the construction of pressure equipment such as boilers, heat exchangers, and superheaters used in structural/mechanical applications, instrumentation systems and.
Seamless Steel Pipe Price
The price per ton of seamless steel pipe is higher than that of ERW steel pipe, generally 20% to 30% higher, this is due to its rather complicated production process (clearer than the manufacturing process of ERW and LSAW steel pipe) and due to the number of seamless pipe Manufacturers are fairly limited (the market is oligopolistic).
For a specific size and specification (such as a 20-inch pipe or high wall thickness pipe of special or special materials, such as ASTM A335 P91 pipe), there are few global pipe suppliers, and the price per ton (or per meter) is therefore affected.
Therefore, for all "carbon steel" or "stainless steel" pipe, regardless of actual diameter, wall thickness, and specific grade, it is a mistake to use a standard price per ton to estimate the price of pipe: all these factors should be taken into account to prevent the Cost overruns during execution. In addition, prices fluctuate daily (especially alloy pipes, which contain chemical elements such as molybdenum, nickel, copper, chromium, etc., and are traded daily on the London Metal Exchange or the ferroalloy market).
Seamless Steel Pipe Size
ASME B36.10 and B36.19 codes cover dimensions and weights for seamless pipes for the petrochemical industry (these codes also apply to welded pipes):
The ASME B36.10 specification covers carbon and low alloy seamless tubing sizes (dimensions and weights) between 1/8 and 24 inches
In contrast, the ASME B36.19 code covers dimensions and weights for stainless steel, duplex, nickel alloy seamless, and welded pipe
Commercial seamless tubing is specified with a nominal pipe size (representing the approximate fluid-carrying capacity of the pipe) and a "gauge", which refers to the thickness of the pipe (most commonly gauge 40, STD, XS, XXS carbon/alloy pipe, 10S, the 40S and 80S for stainless steel and nickel alloy tubing).
Seamless Steel Pipe Manufacturing Process
1/8 through 6-inch mild steel seamless tubing. Manufactured using the so-called "rod milling process" or "extrusion process" (for smaller diameters) and "mandrel milling process" for larger diameters.
ERW Pipe (Resistance Welding)
ERW pipes are manufactured using steel coils: the coils are first uncoiled, then smoothed, cut, and finally formed into a tubular shape by electrically connecting their two ends.
ERW pipe is available in sizes between 1/2 and 20 inches and is available in carbon steel (ASTM A53 is the most common specification) and stainless steel (ASTM A312). In terms of dimensions, ASME B36.10 and ASME B36.19 are the primary reference codes (API 5L for welded ERW line pipe).
ASME and API dimensional drawings show typical combinations of pipe nominal sizes and wall thicknesses (designated as "schedules") and show ERW pipe weight in kilograms (or pounds).
Over the past few years, ERW pipes have become an effective alternative to seamless pipes in terms of price and performance, thanks to modern welding techniques used by ERW pipe manufacturers such as HFI and HFW, high-frequency welding. Over time, these advances in welding technology have reduced the technical advantage of the seamless pipe over ERW pipe, making them interchangeable for at least some applications (low/medium pressure and temperature). Of course, seamless pipe will always benefit from the inherently superior mechanical strength of billet relative to coil and plate.
ERW Pipe Manufacturing Process
ERW pipes are manufactured starting from steel coils which are first uncoiled, cut, machined, welded, and tested as shown in the picture below.
The most common welding technique used for oil and gas pipelines is the so-called "high-frequency induction technique", which involves the application of an induced current to the outer surface of the pipe, capable of producing a strong seam weld and very tightly joining the two sides of the steel coil.
Longitudinal Welded Pipe (Longitudinal Submerged Arc Welding)
LSAW pipes ("submerged arc welding") are manufactured by cutting, bending, and welding steel plates (JCOE process).
LSAW pipe competes with seamless and ERW pipe in the 16 to 24-inch size range but is a "must-have" choice for pipe over 24 inches (since 24 inches is the largest size for commercially available seamless pipe).
The two main types of LSAW pipe are longitudinal (with single or double straight seam welds, DSAW) and helical types (known as HSAW, SSAW, or SAWL pipe). So, the difference between DSAW and LSAW is that DSAW pipe has a weld on the inside and outside of the pipe whereas LSAW pipe has only one weld on the outside surface.
The difference between LSAW and ERW pipes is that LSAW pipes are produced using steel sheets and ERW pipes are manufactured starting from steel coils.
LSAW Welded Pipe
In the oil and gas industry, Large Diameter API 5L LSAW Pipe is used to efficiently transport hydrocarbons over long distances.
HSAW/SSAW spiral welded pipe is used in non-critical applications such as water transmission and distribution (not for oil and gas).
ERW Pipe VS. Seamless Steel Pipe
The question "Should I use ERW or seamless steel pipe for my project?" comes up over and over again. Both have pros and cons, and the right decision should be made after careful consideration:
Advantages and Disadvantages of Seamless Pipe
Seamless pipe is made from a solid block of steel without any welds which may represent areas of weakness (susceptible to corrosion, erosion, and general failure)
Compared to welded pipe, the seamless pipe has a more predictable and precise shape in terms of roundness and ovality.
The main disadvantage of seamless pipes is that their cost per ton is higher than that of ERW pipes of the same size and grade (seamless pipes compete with ERW pipes in the 2 to 20-inch range)
Lead times may be longer as there are fewer manufacturers of seamless pipes than welded pipes (welded pipes have lower barriers to entry compared to seamless pipes)
Seamless pipe may have inconsistent wall thickness along its length, in practice, the general tolerance is +/- 12.5%
ERW Tube Advantages and Disadvantages
Welded pipes are less expensive than seamless pipes (ERW HFI type) because they are manufactured in a less complex manufacturing plant using steel coils as raw material
Welded pipes have shorter lead times than seamless pipes because of the larger manufacturing base
Welded tubes have a consistent wall thickness as they are manufactured using coil (ERW) or sheet stock (LSAW), both of which are controlled to tight tolerances
The main "flaw" of welded pipe is that the presence of the weld seam constitutes a weak factor. While this may have been true in the past, it has become less and less true as welding technology has improved over the past decade.
In Conclusion
Piping and valves are the most influential piping cost elements in plant construction (as a rule of thumb, piping accounts for 5-7% of the total plant cost, while piping accounts for about 60-70% of this cost and valves 15-25%). These figures refer to averages for the oil and gas industry and carbon steel materials (pipe weights may be higher for stainless steel, duplex, and nickel alloy pipe categories).
One Last Note: pipes may have different colors (painted on the outside surface) to represent the type of fluid they carry.
The above details the three types of oil and gas pipelines and the differences between them. If you want to buy seamless steel pipes or ERW pipelines, please
contact us
.
BAOLAI is a professional
custom-welded and seamless steel pipe manufacturer
. Mainly engaged in ASTM, BS, DIN, JIS standard fireproof pipes, welded steel pipes, and welded steel pipes. BAOLAI currently employs about 1,300 people, and has 13 production lines, multiple processing lines, and 4 technologically advanced laboratories. The annual production capacity is about 5 million tons, and the annual export is 150,000 tons in North and South America, Europe, Middle East, Africa, Australia and Southeast Asia.